Event service (Item ID: 28967)
ATTENTION TO ALL MY FELLOW CANOPY FRIENDS - DON'T MISS THIS CHANCE!!
BIGGEST SALE EVER! LOWEST PRICES FOR NEEDLE PUNCH CARPET- WHILE STOCKS LAST! * PRICES NEGOTIABLE
EVENT & EXHIBITION CARPET - HARGA PALING MURAH!! Dari rm99/ROLL SAHAJA! *Boleh NEGO!
Most commonly used for:
-Canopies
-Events
-Exhibitions
-Photobooths
-Pekebun
-Peladang
-OFFICE Carpet
-Tadika / Preschool
- Theaters
-Gym
-Studio (for soundproofing - on the walls also!)
& MORE
Call/SMS/Whatsapp NOW 01110850316 / 01110880150
Email: Email: [email protected]
http://www.alaqsacarpets.com/contact-us/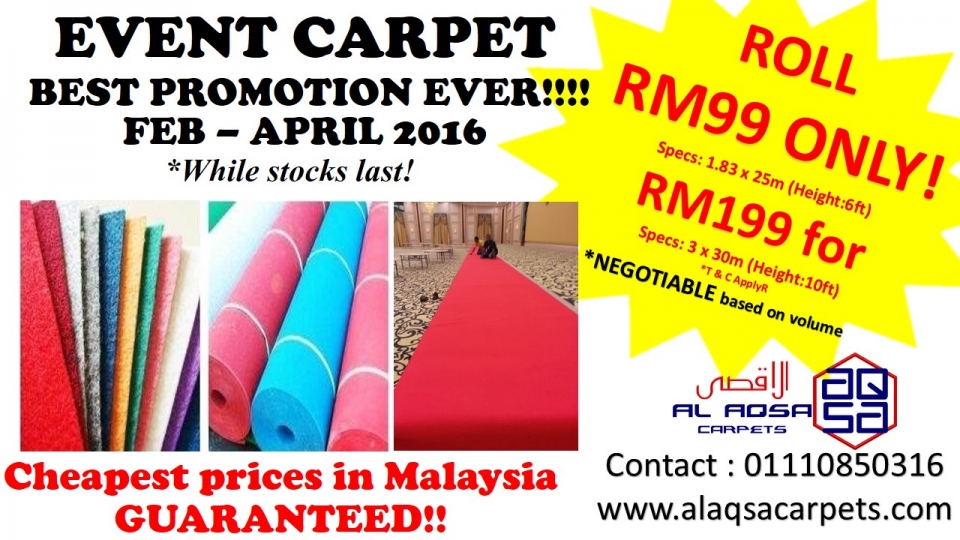 ---
Published date:
29/02/2016 12:03 pm
Expiration date:
31/12/9999
Address:
NO. 92 Persiaran Raja Muda Musa Klang
Show on map
Avoid scams by asking for more details from the advertiser if needed, then verifying them afterwards (using Google, etc)
Transact face-to-face (cash on delivery) whenever possible to see the actual product before paying
Never pay via Western Union, Moneygram or other anonymous (no recipient account) payment services
Don't buy or sell outside of your country. Don't accept cashier cheques from outside your country
Avoid doing financial transactions online (online banking, PayPal/credit card payments, etc) while using public computers or networks (internet shops, airport, etc)
This site is never involved in any transaction, and does not handle payments, shipping, guarantee transactions, provide escrow services, or offer "buyer protection" or "seller certification"
Do you think this ad is a fraud, spam or violates Claseek terms and conditions? Please
report it to us
, we would appreciate your feedback.
Note: Claseek.com is NOT associated in any way with the advertiser and the ad advertised here. All items are posted entirely independent from this site, therefore your vigilance is absolutely necessary.